Dear valued Whiteline customer,
We wish to advise of a production defect tolerance issue regarding the below Whiteline rear sway bars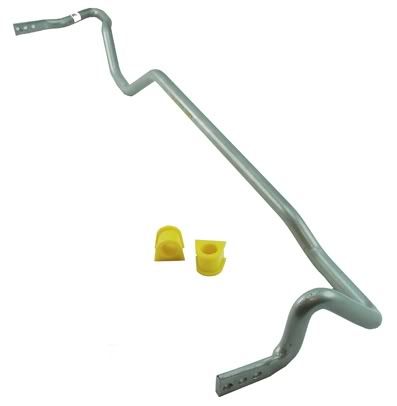 Part Numbers
BSR33Z
BSR33XZ
Applicable Vehicles
Subaru Impreza GD1 MY01-02 INCL TURBO & STI 10/00-9/02
Defect
Blade length clearance issues with factory brake line (refer image below)
Part Numbers
BSR36Z
BSR36XZ
Applicable Vehicles
Subaru Impreza STI GD MY03-04 10/02-9/04
Subaru Impreza GD2 MY03-07 INCL WRX, EXCL STI 9/02-9/07
Saab 9-2X 9-2X 9/02-9/07
Defect
Blade length clearance issues with factory brake
Action required
1.
Please immediately quarantine stock of any of the above part numbers
2.
Note guidelines for affected stock are as follows
a.
Stock purchased and installed since October 2010 to present.
b.
For inventory currently on the shelf please quarantine stock with production batch date on the part number label of September 2010 onwards.
3.
Please advise any customers affected within this date range (October 2010 to present) to inspect the clearance of their fitted Whiteline sway bar blade ends (both ends) based on the image below
a.
Maximum length of 220mm blade arm to center of the sway bar at the mounting point. If they are unable to inspect or accurately measure we strongly urge them to take their car to the original installer or nearest authorised Whiteline Performance Center (for locations click here) for inspection.
4.
Should you or they deem the bar to be fouling the critical tolerance or show concern we strongly urge you to please contact
Email me
to request a replacement with following information
a.
Location/ shipping address
b.
Dealer from whom they purchased sway bar in question
c.
Picture evidence (this will allow these requests to be processed in a more timely manner).
5.
Whiteline is applying its maximum resources to arrange immediate replacement stock however should stock be unavailable at the point of inspection/ request and the car is considered un-roadworthy please undertake the following precautionary measure whilst replacement stock is arranged.
a.
We recommend you refit the original factory sway bar
b.
If no factory bar is available we recommend you grind off the end of the sway bar as per below image
We apologise for the inconvenience this product issue may cause and Whiteline will provide replacement stock at no charge to the dealer or consumer. Whiteline will also be offering compensation for labour costs via a number of methods suitable to those affected!
Regards
Whiteline
email
support@whiteline.com.au