Thank you for your clubs turn out and support yesterday at Round 2 of Eurodrift at Teesside Autodrome..
Was good to see a few of you there yesterday..
It was a truly enjoyable day had by all with some cracking drifting action...
Eurodrift Round 3 Norfolk Arena
The 3rd of the eight rounds is to be held in Norfolk on May 12th again Sky Sports will be covering the event and also a few more suprises to be revealed in good time. (Details to be announced in separate post)
Thank you again guys for those that could not attend and missed out have a quick look at some of the goings on.
Shane Lynch from Boyzone gets Banzai'd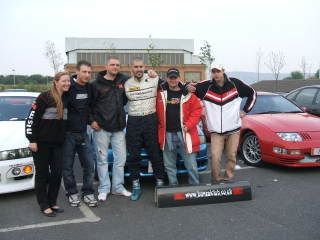 Hope to see you in Norfolk.
Banzaiclub.
Official Supporters of Eurodrift and Drift UK.